Joan Smalls Talks About Her Life on the Farm, Fashion, & More! (Photos)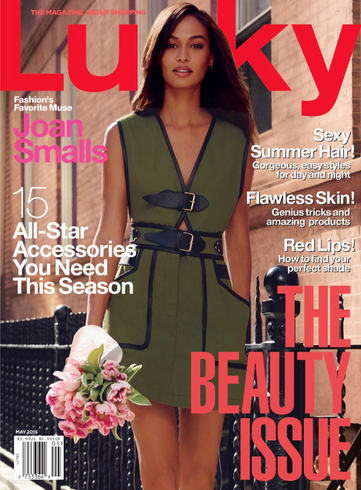 Joan Smalls slays in a green summer dress on the May 2015 cover of Lucky magazine!
In her interview, the 26-year-old supermodel dishes on her style, eating healthy, losing competitions, and Beyonce.
Check out highlights from her Lucky Mag story below:
On her life growing up in Puerto Rico:
"Today everyone is all about organic this, organic that—but that's just how I grew up, eating  from our plantain, banana and orange trees," says Smalls. "It's funny, I never even liked avocados until recently. And we had them in my backyard, so now they're almost like a comfort food. I had it so good when I was a little kid and I didn't even know it!"
On life as a teenager:
"I was so awkward-looking—tall, super skinny, gangly. The boys at school made fun of me…But I'd see those girls on TV and I'd think, Oh, they have my same body type."
On entering modeling competitions:
"I lost every single time. We had a gray minivan, and one time it broke down during a long drive home, and I remember thinking, Is this even worth it? But I loved it. And I had my family's blessing, which was cool. My parents were into it. They were like, 'Why not? It's a fun extracurricular activity, and she has good grades.' Their support was crucial, because I didn't have a license to get myself places."
On her "Yonce" appearance:
"She was just like, 'Be you!'. It was funny because she had to there and chill while we were dancing and doing our thing. She kept saying, 'This is so weird.I'm not doing anything!' We had some laughs.'"
The issue is available on newsstands now!