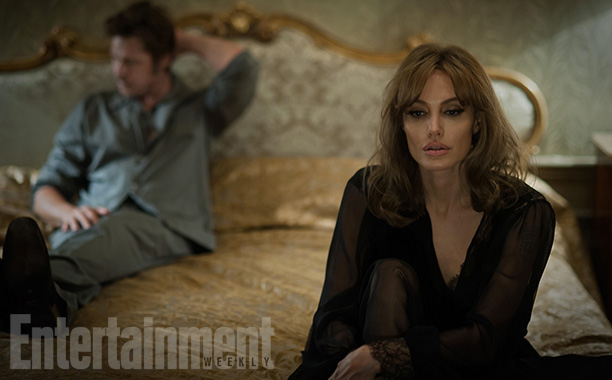 Angelina Jolie & Brad Pitt Find Love Again in New 'By the Sea' Movie – See the First Look Photo!
Posted on
September 16, 2014
Angelina Jolie  and Brad Pitt star as lost lovers in their upcoming movie  By the Sea!
Entertainment Weekly has released two movie stills from the film, which is set to be released in 2015.
The cast has already  began shooting in Malta on Sept. 8 and will continue through mid-November.
"I chose to set  By the Sea in the 1970s, not only because it is a colorful and alluring era, but because it removes many of the distractions of contemporary life and allows the focus to remain squarely on the emotions that the characters experience in their journey," Angelina said to EW in an official statement.
Here is the official synopsis for the movie:
"Set in France during the mid-1970s, Jolie plays Vanessa, a former dancer, and Pitt is her husband Roland, an American writer. As they travel the country together, they seem to be growing apart, but when they linger in one quiet, seaside town they begin to draw close to some of its more vibrant inhabitants, such as a local bar/café-keeper (Niels Arestrup) and hotel owner (Richard Bohringer)."
Looks intriguing!
For more information, visit EW.com!