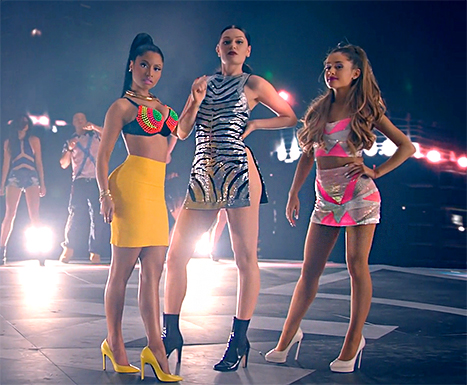 Jessie J, Ariana Grande, & Nicki Minaj Are Super Colorful in 'Bang Bang' Video – Watch Here!
Posted on
August 26, 2014
Take a look at the brand new music video for Jessie J, Ariana Grande, and Nicki Minaj's hit song "Bang Bang"!
The three ladies premiered the video on MTV moments after they performed the song during the  2014 MTV Video Music Awards  on Sunday night (August 24).
Ariana has also released her new album  My Everything, which is now available everywhere!
Watch "Bang Bang" below:
[embedwidth src="<iframe width="579″ height="325″ src="//www.youtube.com/embed/MbcP2uyMe2E" frameborder="0″ allowfullscreen></iframe>"]