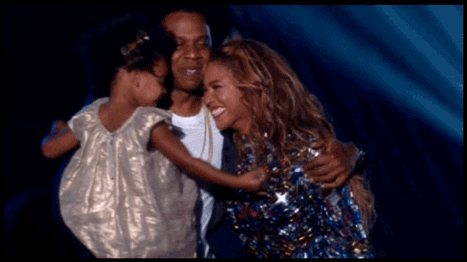 Blue Ivy Dances to Beyonce's VMAs 2014 Performance Medley – Watch Here!
Posted on
August 25, 2014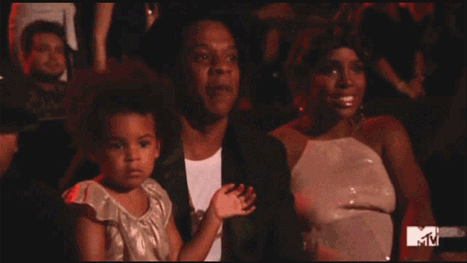 Blue Ivy was jamming to her mommy Beyonce at the 2014 MTV Video Music Awards held at The Forum on Sunday (August 24) in Inglewood, Calif!
The adorable 2-year-old waved her hands and bobbed her head to Bey's catchy hit song "Flawless."
While hitting up the stage, Beyonce performed a medley of tracks from her surprise album Beyonce!
Blue Ivy and papa Jay Z also presented the 32-year-old entertainer with the Michael Jackson Video Vanguard Award!
"I just thank God for this moment. I love y'all so much," Beyonce said. "Good night."
Watch Blue Ivy and Beyonce perform below:
[embedwidth src="<div style="background-color:#000000;width:520px;"><div style="padding:4px;"><iframe src="http://media.mtvnservices.com/embed/mgid:uma:video:mtv.com:1066933/cp~series%3D3160%26id%3D1729742%26vid%3D1066933%26uri%3Dmgid%3Auma%3Avideo%3Amtv.com%3A1066933″ width="512″ height="288″ frameborder="0″></iframe><p style="text-align:left;background-color:#FFFFFF;padding:4px;margin-top:4px;margin-bottom:0px;font-family:Arial, Helvetica, sans-serif;font-size:12px;">Get More:
<a href="http://www.mtv.com/ontv/vma/" style="color:#439CD8;" target="_blank">2014 VMA</a>, <a href="http://www.mtv.com/artists/" style="color:#439CD8;" target="_blank">Artists.MTV</a>, <a href="http://www.mtv.com/artists/beyonce-3/" style="color:#439CD8;" target="_blank">Beyonce</a>, <a href="http://www.mtv.com/videos/misc/1066933/mtv-vma-video-vanguard-medley.jhtml#id=1729742&amp;vid=1066933″ style="color:#439CD8;" target="_blank">MTV VMA Video Vanguard (Medley)</a>, <a href="http://www.mtv.com/music/" style="color:#439CD8;" target="_blank">Music</a>, <a href="http://www.mtv.com/music/video/" style="color:#439CD8;" target="_blank">More Music Videos</a></p></div></div>"]
Beyonce Performance at MTV Video Music Awards
[embedwidth src="<iframe width="620″ height="349″ src="//www.youtube.com/embed/l-nMd6ieFD8″ frameborder="0″ allowfullscreen></iframe>"]
Blue Ivy Dances to Beyonce